WELCOME
Times of Mass and Devotions

Sat   28 Sep
5.30pm
HA
First Mass
Special Intentions of the people of the Parish
Sun  29 Sep
9.15am
HF
Twenty Sixth Sunday
Special Intentions of the Smith family
 
11.00am
HA
 Harvest Sunday
Ann Clements (RIP)
Mon  30 Sep
 11.00am
 HA
Funeral of Bernard Berry (RIP)
 
Tue    1 Oct
 10.30am
 HF
St. Therese of the Child Jesus
 
Wed   2 Oct
9.30am
HA
The Holy Guardian Angels
Special Intentions of Margaret Buckley
 
12.00pm
HA
Funeral of Gerard Fyfe (RIP)
 
Thu    3 Oct
 7.30pm
HF
Mass (Confessions)
 
Fri      4 Oct
12.00pm
HA
St. Francis of Assisi (Confessions)
For those working for Peace in Syria
Sat     5 Oct
5.30pm
HA
First Mass
Special Intentions of the people of the Parish
Sun    6 Oct
9.15am
HF
Twenty Seventh Sunday
Special Intention of the Priest
 
11.00am
HA
 
Paul Vella (RIP)
Sacrament of Reconciliation (Confessions)
Holy Angels, Ash: First Friday of month after 12pm Lunchtime Mass
Holy Family, Farnham:  First Thursday of month after 7.30pm Evening Mass
Special Services with Confessions at both Churches for Advent and Lent
Exposition of the Blessed Sacrament will commence on Wed. 4th Sept at Holy Family @ 7.00pm (in Church Hall)
 (Parish Office Hours: 9.30am – 1.30pm)
                        Please note:  HF = Holy Family, Heath End, Farnham and HA = Holy Angels, Ash
Special Collection
CAFOD HARVEST FAST DAY IS ON FRIDAY.  Envelopes for CAFOD are available this weekend and there will be a retiring collection next weekend at all Masses to help provide food and support for those in need.
Liturgy
26th Sunday of Year C
Theme: Harvest Thanksgiving

Entrance:          HA: 685  HF: 27 All things bright ..
Offertory:          HA: 735  HF: 782 We plough the fields
Final Hymn: HA: 973  HF: 249 He's got the whole ..
Holy Family Church Catholic Parish Farnham, Hale, Weybourne & Badshot Lea
Mother and Toddler Group – Meet every Thursday morning from 9.30am until 11.30am in the Church Hall (during school term)
Holy Angels  Catholic Parish for Ash, Nr. Aldershot,  Ash Vale, Tongham & Normandy
Ministers of Holy Communion – Are there any Eucharistic Ministers who would be able to help out with taking Communion to a few of our housebound parishioners as we are in need of more volunteers or if you are not already a Minister of the Eucharist but are CRB checked and would like to be trained please see Father David.
Information
Jubilee Small Groups
The Autumn Session of our DIOCESAN Jubilee discussion groups will begin in the week beginning 7th October.  Anne Martindale will be hosting Gloria Craven's group.  Please contact your discussion group host for further details or Father David or Deacon John if you would like to join or host a group.
Confirmation 2014 – An enquiry for anyone out there in our parishes who would be eligible and would like to be confirmed next year.  Candidates have to be YR 9 and above.  We would not normally put a programme on for any number less than 10 so we need to know who would be interested.  [Please contact Gloria.benson@chyp.com or speak to Fr David or Deacon John.
Prayer Group – for both Holy Angels and Holy Family takes place once a month on a Tuesday.  The next dates are as follows: 8th Oct and 5th November, 2013. Coffee at 7.30pm for 7.45pm start. To be held in the Parish Office
First Holy Communion –  The Catechist Team is looking to expand and is seeking additional volunteers who would like to get involved in this really rewarding and engaging work. If you would like to find out more about helping with Catechism, please contact:
amandawatty@sky.com
Teresa.woods28@btinternet.com
lynnstrathdee@btinternet.com
First Holy Communion Children – 2014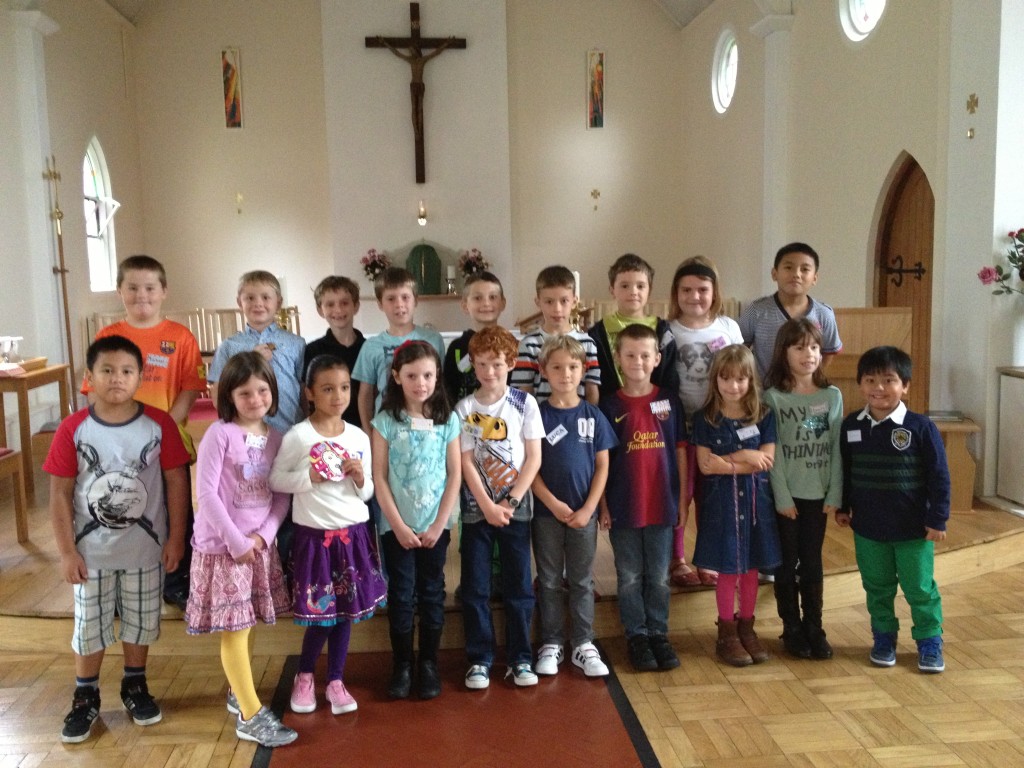 Baptisms
Baptism Course: Monday, 11th November, 2013 Please make an appointment to see the Priest/Deacon to discuss what you need to do to prepare for your child's baptism. If you are new to the Parish, please complete pink Registration Form and make yourself known to Father David or Deacon John after Mass.
Prayer Requests
Please remember the sick in your Prayers, Sheila Bone, David Morgan and Edd Turnell.    Thank you.
If you would like prayers for friends or family members, please first check with that person that they are happy for their name to be mentioned in the weekly Newsletter.
A thought for Harvest
Harvest Festival is a celebration of the food grown on the land.
Thanksgiving ceremonies and celebrations for a successful harvest are both worldwide and very ancient. In Britain, we have given thanks for successful harvests since pagan times. We celebrate this day by singing, praying and decorating our churches with baskets of fruit and food in a festival known as 'Harvest Festival', usually during the month of September.
Harvest Festival reminds Christians of all the good things God gives them. This makes them want to share with others who are not so fortunate. In schools and in Churches, people bring food from home to a Harvest Festival Service. After the service, the food that has been put on display is usually made into parcels and given to people in need.
When is Harvest Festival?
Harvest festivals are traditionally held on or near the Sunday of the Harvest Moon. This is the full Moon that occurs closest to the autumn equinox (about Sept. 23). In two years out of three, the Harvest Moon comes in September, but in some years it occurs in October.
Unlike the USA and Canada, the UK does not have a national holiday for Harvest Festival.
The harvest festival of the Jewish religion is called Sukkot or 'Feast of Ingathering' or 'the 'Feast of Tabernacles'. It is celebrated at the end of the year, after Rosh Hoshanah, the third of the great Annual Festivals and this would have been the Feast which Jesus would have celebrated during his time on earth.
A Poem for the children
Diary of a Church Mouse
Christmas and Easter may be feasts
For congregations and for priests,
And so may Whitsun. All the same,
They do not fill my meagre frame.
For me the only feast at all
Is Autumn's Harvest Festival,
When I can satisfy my want
With ears of corn around the font.
I climb the eagle's brazen head
To burrow through a loaf of bread.
I scramble up the pulpit stair
And gnaw the marrows hanging there.
It is enjoyable to taste
These items ere they go to waste,
But how annoying when one finds
That other mice with pagan minds
Come into church my food to share
Who have no proper business there.
Two field mice who have no desire
To be baptized, invade the choir.
A large and most unfriendly rat
Comes in to see what we are at.
He says he thinks there is no God
And yet he comes…it's rather odd.
From a Poem by John Betjeman
Prayer of Thanksgiving (said by all)
God our heavenly Father,
at this Harvest time we thank you for your wonderful world of creation from which our lives are sustained each day. May we who are blessed with the resources of this world be as generous in sharing with those in need as you have been generous to us.  Through Christ our Lord. Amen.