Two Parishes Newsletter
The Parish Newsletter will in future be published on this website on a Friday in time for the forthcoming Sunday Mass.Items for the Newsletter need to be submitted no later than Wednesday middday for publication on the following Sunday.
Tea and Coffee @ Holy Angels
On the first and third Sunday of the month tea and coffee will be served.
Why not come and join us for a chat and perhaps make some new friends?
Holy Angels Gift Shop
Judy D'Sa now manages the gift shop at Holy Angels which is always open even if she is not actually present.  Just ask for the keys and place the money in the little money box for the item purchased.
 Feel free to call her on 01252 324125 for any special items not available at the shop that you may require.  Catalogues are kept on the top of the display cabinet or visit the distributors' website which is www.cbcdistributors.co.uk"
Pastoral Letter of Bishop Kieran Conry
Dear brothers and sister of Arundel & Brighton, sometimes when you go to the doctor you just know that your're not feeling well, but are not sure why.  One of the skills of the doctor is that he or she can then get you to identify more precisely what the problem is.  What sort of 'disease' is it – in other words, what is making you feel uneasy, what is taking away your normal feeling of ease?  It's the same with counselling.  A skilled counsellor will get you to identify your feelings;  your're feeling bad, but is it anger, fear or regret?  All these things can make us unhappy within ourselves.
This Lent, the Bishops' Conference of England & Wales is publishing material to help people either re-connect with the Sacrament of Reconciliation, or get to know it for the first time.  The sacrament has been referred to traditionally as 'confession', but the Church has recognised that there is more to the celebration than simply the act of confessing sins.  It is a re-building of our relationship with God and with one another.
Over the last few decades most churches have seen a steep decline in the numbers of peoplke taking advantage of this sacrament, and the reasons are not always clear.  One of the reasons may be a different attitude to sin.  In the past there seemed to be great emphasis on sin as something that you 'did', or even thought of doing;  many people confused sin with temptation and even now there is still confusion about what constitutes sin.  Many adults, for instance, will confess anger as a sin, but anger is an emotional response we can't do anything about, and the Church has always taught that sin must be the deliberate and conscious carrying out of something we know to be wrong.
There may also have been a growing sense that the traditional 'penance' such as three 'Hail Marys' can really put right something that I know to be seriously wrong, or make up for the hurt I might have caused somebody.
Sin is harmful because it does damage.  It damages ourselves, it damages others, it damages the community and it damages our relationship with God.  The sacrament of reconciliation helps to start repairing that damage.  It helps to start, but the actual re-building of those relationships will perhaps take a long time.
While many churches have witnessed a decline in the number of adult 'confessions' there is some evidence of a growth in the numbers of young people celebrating the sacrament, especially in Rome, and probably because of the influence of Pope Francis.  He has said some very helpful things, inviting people to take a fresh look at the notion of reconciliation.
While he says that confessing our sins is not to be equated with psychotherapy or counselling, he does refer to the counselling principle of putting a name on our problems and difficulties.  He says that children don't talk in general or vague terms, in the way that adults sometime confess to being 'uncharitable' or 'selfish'.  They say precisely what they have done wrong, and recognise it for what it is.  And he says that it is important to have this conversation with a priest;  it has to be real.  To those who say 'I can confess to God', Pope Francis says that it's not like sending God an email;  it is personal encounter.  It has to be eye-to-eye contact, he says.  And while it is a very private and confidential meeting with a priest, the priest represents the community of the Church, and it is the community, as well as the individual that is being healed.
The Pope uses the word 'shame' when he talks about our response to our own wrong-doing.  This seems to be different from 'guilt'.  Guilt is something that most of us carry around all the time, guilt for the things we have done and said and guilt for the things we have left un-done and un-said.  But shame is possibly less easy to carry around, and must be washed away.  And when shame starts to close a door, Pope Francis says, confessing our shame can open that door again, the door of our relationship with others and the door of our relationship with God.
And finally, he reminds us that this is not all about ourselves, it is about God and his mercy and love for us.  Celebrating the sacrament of reconciliation is giving praise to God for his goodness and unconditional acceptance of us.  This is the God who became like me to save me from my sin, and one of the most immediate and real ways to experience this salvation is in the sacrament.
You don't have to remember any formula of words, or how many times you have done something wrong.  The priest will help you.  The Pope reminds us that the priest himself, bishops and even the Pope himself need to celebrate this sacrament.  So if you haven't been to confession' for some time and want to discover it again, this Lent might be a good time to do it.  Thre are even a couple of smart-phone 'apps' that you can look at;  one is called simply 'Confession', I think, and the other is Mea culpa.  They don't allow you to confess over the phone – the Pope says it has to be person-to-person – but they might help if you have that technology.
So I hope that Lent is a fruitful season for you, that you experience change not only in the weather and the lengthening of the days, but also in the light in your heart and the warmth of your inner self, and come to Easter with a real sense of re-discovered joy in the Lord.
With my best wishes and prayers for you all
+ Kieran
HARVEST SUNDAY – 29th September, 2013
Our wonderful Harvest display this year was once again designed by Maggie Batchelor.  The wonderful loaf was baked by Chris Michie who also assisted Maggie with the display.  We didn't think Maggie could beat her wonderful display of last year, but she seems to have succeeded! Many thanks to both Maggie and Chris for their time and effort in helping to make our Harvest Sunday celebrations so special.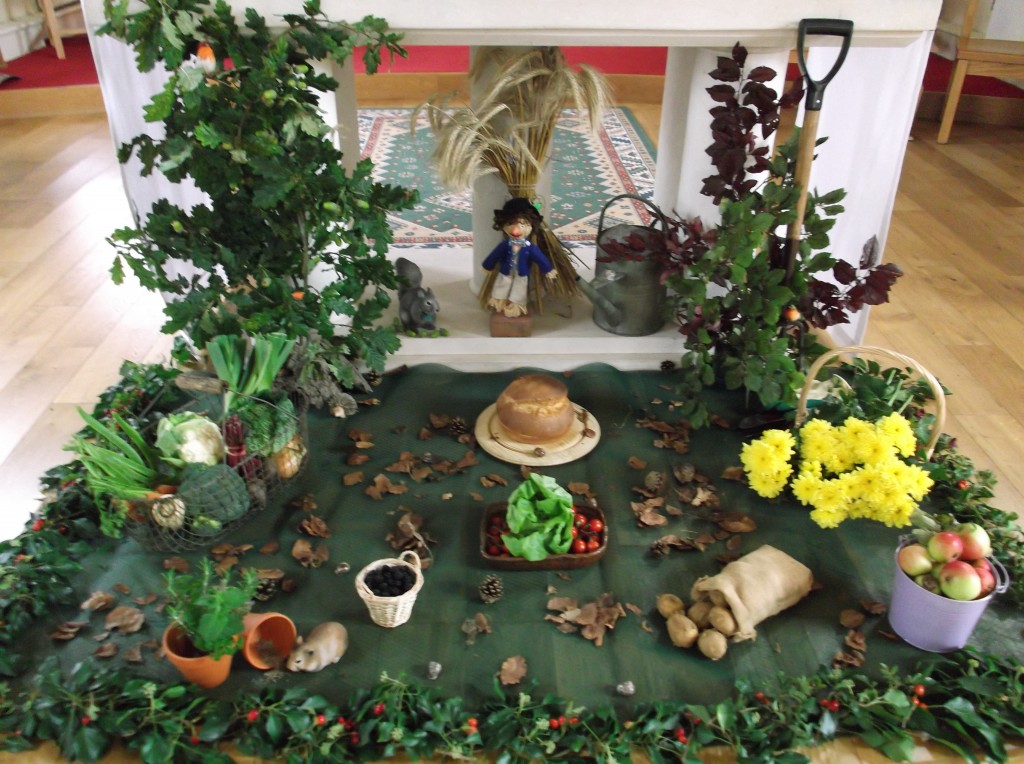 **************************************************************************************************************************
ASSUMPTION OF OUR BLESSED VIRGIN MARY
 The above display was put together by Maggie Batchelor and we once again are very grateful to Maggie for the beautiful arrangement to help us celebrate the Assumption of our Blessed Virgin Mary.
 Pope Francis has written his First letter (called an encyclical) to the Bishops, clergy and people of the World entitled:  Lumen Fidei – The Light of Faith.  The Vatican Radio made the following comments in a recent programme on the Pope's letter.
The first chapter takes the reader on a whirlwind tour of the Old and New Testaments, from Abraham, who first hears God's call, through the Israelites travelling towards the light of the Promised Land, to Jesus' death on the Cross, the ultimate act of God's love for humanity.  The more we are touched by the transforming power of that love, writes the Pope, the better we are able to understand our relationship to all our brothers and sisters in Christ.
Chapter two insists on the essential link between Faith and Truth, without which our beliefs seem nothing more than a fairy story, an illusion of happiness, unable to sustain us when the going gets tough. Contemporary society, the encyclical says, tends to see technological progress and individual pleasure as the only objective truth, viewing any broader questions about the origins of our existence with deep suspicion.  Without love in our hearts, truth becomes cold, impersonal, oppressive, unable to transform the lives of others.  But by listening seeing and believing in Christ's presence in our lives today, we can broaden our horizons and find better ways of serving the common good.  The light of our faith in Christ can also contribute to a more fruitful dialogue with non-Christians and non-believers, showing how all those who search for God or seek for truth will be welcomed and illuminated by that light.
The third chapter of the encyclical centers on the Church as the place where the light of faith is safeguarded and transmitted from one generation to the next.  Through the sacraments of Baptism and Eucharist, through profession of the Creed, praying the Our Father and obeying the Ten Commandments, the Church teaches the language of faith and draws us into the Trinitarian relationship of love, so that 'whoever believes is never alone'.  The final chapter focuses on Faith and the common good and shows how the light of faith can promote peace and reconciliation, and teach respect for God's creation.  The encyclical also considers those areas illuminated by Faith, starting with the family based on marriage, understood as a stable union between man and woman.  Faith, writes the Pope, cannot eliminate suffering in our world, but it can accompany us and bring a new sense of hope in God's love.  The encyclical ends with a prayer to Mary, Mother of Jesus and icon of faith, who can lead us into the light of God's love.
From Paragraph 4:  "The light of faith is unique, since it is capable of illuminating every aspect of human existence.  A light this powerful cannot come from ourselves but from a more primordial source:  in a word, it must come from God.  Faith is born of an encounter with the living God who calls us and reveals his love, a love which precedes us and upon which we can lean for security and for building our lives.  Transformed by this love, we gain fresh vision, new eyes to see; we realise that it contains a great promise of fulfilment and that a vision of the future opens up before us".
From Paragraph 16:  "If laying down one's life for one's friends is the greatest proof of love, Jesus offered his own life for all, even for his enemies, to transform their hearts.  This explains why the evangelists could see the hour of Christ's crucifixion as the culmination of the gaze of faith; in that hour the depth and breadth of God's love shone forth".
3.  From Paragraph 18:  "In many areas in our lives we trust others who know more than we do.  We trust the architect who builds our home, the pharmacist who gives us medicine for healing, the lawyer who defends us in court.  W also need someone trustworthy and knowledgeable where God is concerned.  Jesus, the Son of God, is the one who makes God known to us Christis life, his way of knowing the Father and living in complete and constant relationship with him, opens up new and inviting vistas for human experience."
4.  From Paragraph 25:  "In contemporary culture, we often tend to consider the only real truth to be that of technology:  truth is what we succeed in building and measuring by our scientific know-how, truth is what works and what makes life easier and more comfortable.  Nowadays this appears as the only truth that is certain, the only truth that can be shared, the only truth that can serve as a basis for discussion or for common undertakings.  Yet at the other end of the scale we are willing to allow for subjective truths of the individual, which consist in fidelity to his or her deepest convictions, yet these are truths valid only for that individual and not capable of being proposed to others in an effort to serve the common good.  But Truth itself, the truth which would comprehensively explain our life as individuals and in society, is regarded with suspicion."
5.  From Paragraph 26:  "Faith transforms the whole person precisely to the extent that he or she becomes open to love.  Through this blending of faith and love we come to see the kind of knowledge which faith entails, its power to convince and its ability to illumine our steps.  Faith knows because it is tied to love, because love itself brings enlightenment.  Faith's understanding is born when we receive the immense love of God which transforms us inwardly and enables us to see reality with new eyes."
6.  From Paragraph 46:  "The Decalogue is not a set of negative commands, but concrete directions for emerging from the desert of the selfish and self-enclosed ego in order to enter into dialogue with God, to be embraced by his mercy and then to bring that mercy to others.  Faith thus professes the love of God, origin and upholder of all things, and lets itself be guided by this love in order to journey towards the fullness of communion with God.  The Decalogue appears as the path of gratitude, the response of love, made possible because in faith we are receptive to the experience of God's transforming love for us."
7.  From Paragraph 52:  "The first setting in which faith enlightens the human city is the family.  I think first and foremost of the stable union of man and woman in marriage.  This union is born of their love, as a sign and presence of God's own love, and of the acknowledgement and acceptance of the goodness of sexual differentiation, whereby spouses can become one flesh and are enabled to give birth to a new life, a manifestation of the Creator's goodness, wisdom and loving plan."
8.  From Paragraph 57:  "Faith is not a light which scatters all our darkness, but a lamp which guides our steps in the night and suffices for the journey.  To those who suffer, God does not provide arguments which explain everything; rather, his response is that of an accompanying presence, a history of goodness which touches every story of suffering and opens up a ray of light.  In Christ, God himself wishes to share this path with us and to offer us his gaze so that we might see the light within it.  Christ is the one who, having endured uffering, is "the pioneer and perfecter of our faith". (Heb 12:2)
WEEKDAY MASS
Feel like you need a break from the pressure of work, school or what is going on at home during the week? Our WEEKDAY MASSES at Holy Angels (Wednesday 9.30 am and Friday 12 noon) are proving very popular. They are short and celebrated in a carpeted side chapel which is proving ideal for young mums with little children. Coffee and Tea (sometimes also soup) are served after the Masses for anyone who would like to stay on for a chat amongst friends.
 Why go to Mass?
(An article written by Father Oscar Lukefahr, CM)
Recent polls indicate that some Catholics don't think that going to Mass every week is important.  Perhaps you have friends or relatives who feel they can be good Catholics without going to Mass.  If they asked why you go to Mass, how would you respond?
A good place to begin is the Catechism of the Catholic Church.  The Catechism teaches that the Eucharist is the "source and summit of the Christian life," for "in the blessed Eucharist is contained … Christ Himself"
"For to me," St. Paul wrote, "living is Christ" (Phil. 1:21). To be truly Catholic is to know Christ as our Lord and God and to follow Him in our thoughts, words, and actions.  Jesus gave us the Mass to unite us to Himself and offer the grace to think, speak, and act like Him.
Jesus says in John 6:56, "Those who eat My Flesh and drink My Blood abide in Me, and I in them," so the Mass is essential to us as Catholic Christians.  These are the first and most important reasons for going to Mass!  Here are others.
Mass and the meaning of life
Most people wonder about the meaning of life.  How did life begin?  What happens to us at death?  Is there a God?  If there is no God, we are accidents that ultimately came from nothing and are going nowhere.  If there is a God, we have been created as God's beloved children who are destined for eternal happiness.
God tells us an essential way to express this faith in the Third Commandment:  "Observe the sabbath day, to keep it holy."  Those who carelessly miss Mass erode any faith they may think they have, just as the refusal of acts of kindness erodes love between spouses.  If we believe in God, we must obey the third Commandment.  We must participate in the Mass to express our faith in Christ's teachings about the meaning of life.
Jesus asked us to
Another reasons for going to Mass and another proof of its importance is that it is the only thing Jesus asked us to do for Him.  Jesus asked us to do many things for others and for ourselves, but only one thing for Him:  "This is My Body, Which is given for you.  Do this in remembrance of Me".  (Lk.22: 19).  How can we be loyal followers of Jesus if we fail to do this one thing?
"I can be a good Catholic without going to Mass."  This statement is false.  We cannot be good Catholics unless we do what Jesus asks of us.
"I can pray at home, or in the woods.  I don't need to go to Mass."  It is true that we can pray at home or in the woods, but it is not true that we don't need to go to Mass.  We are not the ones to decide what sort of worship God desires. God is, and God tells us that private prayer is not enough.
We need to pray in private (Mt. 6:6) but we must also pray with others (Mt. 18:20).  Private prayer is essential to our spiritual growth, but essential also is prayer with others, especially the prayer mandated by Jesus.
Personal witness
"Mum, Dad, why do I have to go to Mass?"  When children as this question, they are really asking, "Mum, Dad, why do you go to Mass?"  The best answer to a question about the Mass is peronal witness.
A person might argue about whether or not God's commandments include Sunday worship, but no one can argue with your personal experience, so you might respond to your children, "I want to begin by saying that Mass has been a great blessing for me.  Jesus has touched me in so many ways though Scripture, Holy Communion, and our Catholic community that I can't imagine life without Mass.  I want you to have such blessings."
God asks so little of us
A good reason for going to Mass is that God asks so little of us.  On average, if we live to be 80 years old, we will spend about three and a half years reading, five years talking, six years getting an education, six years riding in a car, seven years eating, 11 years watching television and in recreation, 14 years working, and 27 years sleeping.
If we live to be 80 and spend an hour attending Mass every Sunday and five minutes praying every day, it adds up to six months! How can we refuse so little to a loving God who has given us so much?
[Among the reasons we attend Mass is that it is the only thing Jesus asked us to do for Him.  At the Last Supper He said, "This is My Body, Which is given for you.  Do this in remembrance of Me."]
HARVEST FESTIVAL 2012
Holy Angels Church, Ash
We will do all we can to make your wedding ceremony or anniversary a very special and memorable occasion for you.
Father David